Clear design language, warm appearance: a place of comfort for parents and child.
Body + front: Particle board (oak montana imitation)
Bedsides: Solid beech wood

For price details, please send us a message through contact us page.
Simple and straightforward: the light pebble grey and warm oak combined with the base frames in a modern look make the room timeless and cosy.
First the cot

The baby beds from PAIDI grow with your child right from the start, because they are height-adjustable in 4 positions and thus protect the parents' backs when they take their child out of the bed. But there' s also a lot done for the child's back, because even the cots are equipped with a comfortable slatted bed base. Removable bars are called slip bars, which ensure a safe exit and entry when the toddler explores the room. So the child can always be close to mum and dad.

The baby changing unit becomes a room object
The changing units are actually ordinary chests of drawers, equipped with a changing top with head protection in a wide range of colors providing a safe way to change nappies. The spacious drawers have a convenient self-closing mechanism; for even more organization, they can be fitted with additional inserts. When the child no longer needs to be changed, the chests of drawers without a changing top are a chic and functional room object.
Safe sliding-door wardrobes also in the children's room
In addition to our spacious wardrobes and the particularly space-saving corner wardrobe Oscar, there are also sliding-door wardrobes for the children's room that close gently and quietly. Thanks to the PAIDI Slide System and Soft Close, they stop automatically and protect little fingers from getting caught between the doors. The wardrobes can be divided in many different ways and a LED light can be added to illuminate them.
Wall shelves and other storage systems
Sideboard, highboard, lowboard – children's furniture and shelves from PAIDI have many different names and functions. When they are open, they offer plenty of space for toys and stuffed animals to decorate the children's room. What should not be visible can also disappear behind the sliding doors. Another practical storage solution: castor containers that can also be used as a seat when fitted with a cushion.
PAIDIs children furniture grows alongside your child.
The baby bed becomes a junior bed and later the first children's sofa. Chests of drawers for changing diapers as well as shelves and wardrobes for children can also be used for a long time and in many different ways.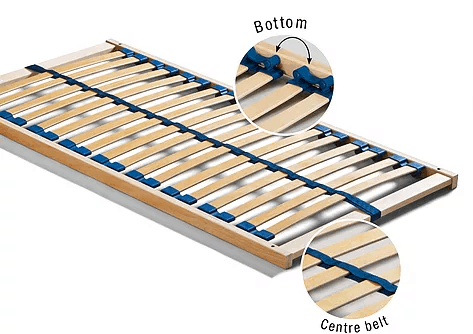 AIRWELL® Comfort Slatted mattress support
The AIRWELL® Comfort slatted bed base creates perfect, constant spring characteristics even at high loads due to the special bearing technology on caoutchouc caps.
Even load distribution via centre belt.