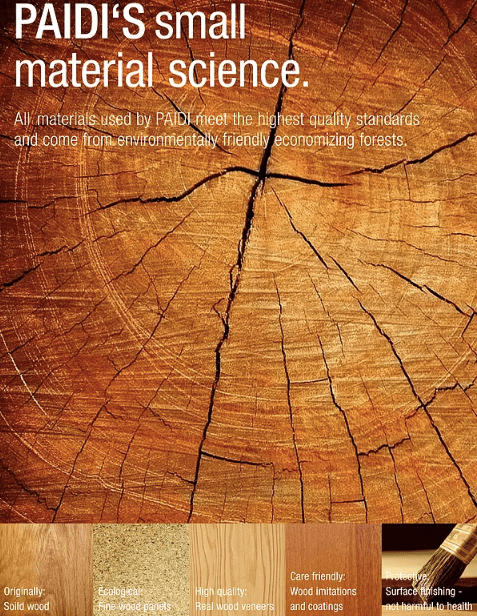 PAIDI furniture: solid and partly solid wood.
The fronts and all supporting elements of solid and partly solid furniture of PAIDI are made of solid wood as birch, beech, oak, spruce and pine. Less important and not-visible elements are made from coated chipboards.
PAIDI furniture: real wood veneer.
The production of real wood veneer furniture is a traditional carpentry skill: A thin layer of natural wood is carefully selected and glued to the backing material. This creates the natural wood character with a surface that is as high quality as solid wood furniture. We use for real wood veneers mainly high quality birch, beech and oak.
PAIDI furniture: wood imitation.
For producing wood decors, printed papers are impregnated with resins and pressed onto the prepared carrier material. The resulting surface is characterized by good abrasion resistance, high strength and water resistance.
Solid, real wood veneer or wood decor – all furniture set standards:
High quality materials.
All materials meet the highest quality standards and come from environmentally friendly economizing forests. They are also tested according to strict European DIN and EN standards.
Healthy quality.
Based on our environmental and emission-free production all our furniture is certified with the "Blauer Engel"(Blue Angel in English). We also use non-toxic paints that meet the DIN and EN standards.
Stability and longevity.
Our furniture is especially strong and durable.
Unique and diverse look.
Wood is a living natural product that is always individual and unique in its grain. Therefore, each furniture piece made of natural wood is unique. The choice between pure wood look in different shades or with a paint with shimmering grain is up to you.
Easy to clean and free of polluants.
All surfaces of our furniture are finished with non-polluting paints and meet the saliva and sweat proof according to DIN standard. Therefore, to remove impurities, it is mostly enough to wipe with a damped cloth.