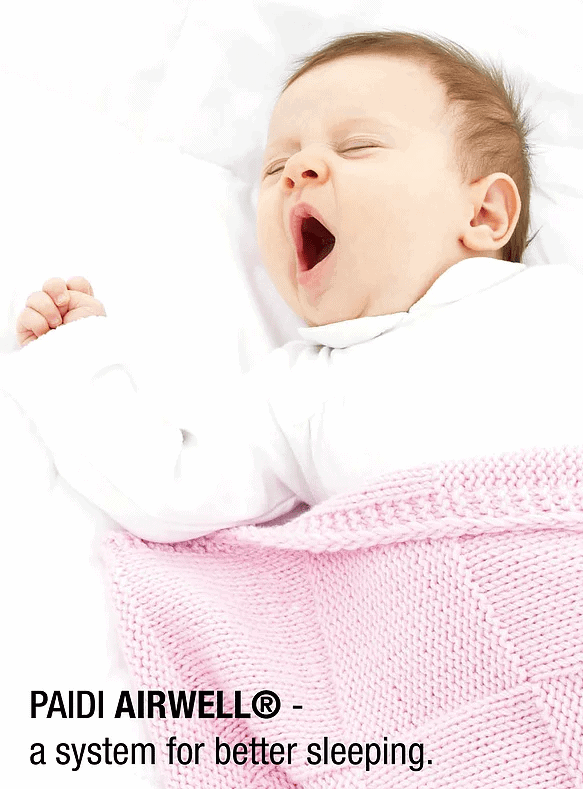 Knitted spacer: A double-walled textile construction, the upper and lower sides by vertical, thin threads (so-called pile yarns) are kept at a distance.​
Cold Foam: An open-cell, breathable foam – is produced without chemical blowing agents, with pressure and water – in contrast to polyfoam. It is beneficial for people with allergies.
Volumetric weight (VW): There is the density of the foam used for the core production of foam mattresses in kilograms per cubic meter [kg / m³] and thus determines strength / hardness the mattress.
Climate band: Distance knitted textiles are particularly resistant to compression, breathable and moisture-conducting. When mattresses are used on the surface to avoid CO2 feedback and improve ventilation. With the AIRWELL mattress covers a rotating belt is uses which is about 2 cm wides and optimizes air and heat transfer.
Threeways healthy sleep.​
The PAIDI AIRWELL ® system provides three carefully matched components, the ideal basis for a night's sleep of your child: The combination of a high quality AIRWELL ® mattress with AIRWELL ® Comfort slatted mattress support and AIRWELL ® Sensitive double cloth complement each other perfectly. They offer excellent body support which combined with optimal ventilation to prevent the stagnation of heat and moisture effectively, so that your child is completely comfortable in bed.
Stable day and night.
All PAIDI cots are suited to use it at night to sleep and dreams, and during the day to relax and play. Therefore PAIDI bed frames are made very solid. The bed base's slats and frames are made by a high quality workmanship. For safety reasons, all PAIDI AIRWELL® mattresses are equipped with surrounding step edges.​
Glossary about sleep.​
Step edge: The sides of the mattress is made of firmer foam,which increases the stability of the child at its first attempts at standing up. PAIDI uses surrounding step edges because the slip resistance ate the front side of the baby cot is important during the first standing
exercices.
Baby/Junior side: The two sides of the mattress are of different firmness: The baby side is softer, the junior side is a little harder.
3D ventilation technology: Mattress with different ventilation channels to ensure a flow of air from all directions-bilateral, horizontal and vertical cuts, which meets in points allow a full airing of the mattress core in any direction.
Point elasticity: The characteristic of the mattress, only to give in on the points that are loaded and otherwise keep its shape.
Mattress Cover: The divisible mattress covers PAIDI has a surrounding zipper, the cover can be divided. While one half can be washed and dried, the second one can still be used.​
Bottom cover: Breathable cover of the mattress core for its protection and for the easier covering of the main cover after washing.